Special Events
Do you want to help us raise funds in a fun way? Do you want to gather food, school supplies, or toys for families and children in need? These are great opportunities for you, your family, your club, sports team, or work group to come out and feel good about giving back.
Stuff-a-Bus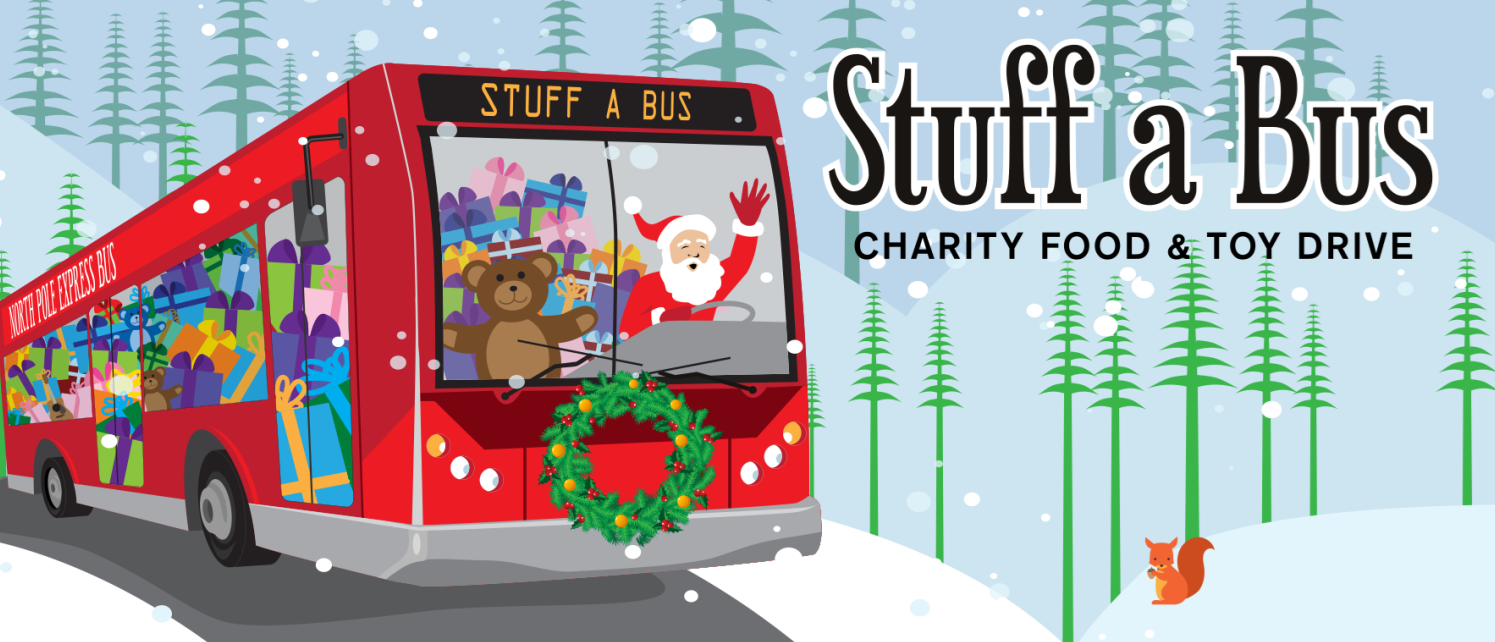 It is that time of year again, Volunteers of America Western Washington will be partnering with Everett Transit and Christmas House to provide food and gifts to families in need. We will be at the Fred Meyer on Murphy's Corner in Everett November 24th & 25th, December 1st & 2nd, and December 8 & 9th collecting food and toy donations. Swing by and drop off your donations to help us stuff this bus! Can't make but still want to help? Donate here
We have exciting volunteer opportunies for the following days. Easy sign up by clicking the links below-
Annual Inspire Hope Breakfast
During this annual event, we will honor some of our most significant community partners, donors and volunteers. This year the breakfast will be help on Thursday, September 20th doors open at 7:15 a.m.We will be reporting out on some of the amazing accomplishments of this year, made with their support. Click here to see more information
In case you cannot attend but want to show your support you can donate here.
First Annual Meaningful Day Car Show
Car Show will be held at Evergreen Lanes paking lot 5111 Claremont Way, Everett, WA 98203 from 10a to 2p. Free to attend and $25 to register your vehicle (only $20 registration before September 1st). Vehicles will include trucks, hot rods, and motorcycles.
Stay tuned for updates on 2019 car show.
Community Volunteer Nights
Whether it's just you and your sibling, niece or nephew, or with your kids, family-friendly volunteer opportunities provides families a way to positively impact their local community while spending quality time together and strengthening communication and bonds between parents and kids. Families can volunteer at our monthly family-friendly volunteer projects, or hold a food drive on their own.
You do not have to go through volunteer orientation to participate in one of these events. Space is limited so please click on a date below to RSVP for an upcoming Community Volunteer Night.
*Please note: These are not drop-off events. If your child is under the age of 14, there must be a parent or guardian present to volunteer with them. If your child is 14-17 and wants to volunteer alone, you must send them with a Parental Consent Form. Thank you!
EVERETT FOOD BANK COMMUNITY VOLUNTEER NIGHT
Sort food donations and repackage bulk food. Bring a canned food donation with you to kick off this event! *Starting June 12th Community Night will be on the second Tuesday each month*
1230 Broadway, Everett, WA 98201
Civil Discourse in the Public Arena
Join us for an public meeting on Civil Discourse in Skagit County - whose job is it and how does it affect our community? We'll hear from educational representatives, community organizations, the media and political representatives. Then, participation from the attendees - what's important about the idea of Civil Discourse for Skagit County?
Cost: FREE
Please use links to register for this free informative events
Annual Letter Carriers Stamp Out Hunger Food Drive
On Saturday May 12, 2018 we will be working with Letter Carriers across Snohomish County picking up community donations and bringing them back to post offices to be sorted and packed by volunteers. There are a number of locations and shifts that still need volunteers, click here for more information or to sign up.
In the news - Herald Article "You can play a role in fighting hunger without leaving home" by Julie Muhlstein
Food collected Saturday will be distributed to the Snohomish County Food Bank Coalition's 21 food banks, overseen by Volunteers of America. The Everett Food Bank, in the VOA building at 1230 Broadway and at three pop-up sites in churches, serves about 4,200 people each month. Read more
Snohomish County March Against Hunger
The results are in during the month of March, Snohomish County Employees raised funds and collected food for their community in partnership with Volunteers of America. This year the dollars raised were over $49,600 for a new record. Additionally, over 5,870 pounds of food was collected to donate to local food banks. Read more
Group Volunteers
Whether you're looking for a team-building opportunity for your workplace, church, school, or club, we want your support! We frequently use groups at our Everett Food Bank on Thursdays & Fridays. We also have a wide variety of special events for groups. Volunteer groups help sort and organize donated food, stock the food bank shelves, and clean the food bank! Please contact the food bank at (425) 212-5302 or food@voaww.org so that we can discuss your options. Some restrictions (day/time/location) may apply.